Portugal Trip 2002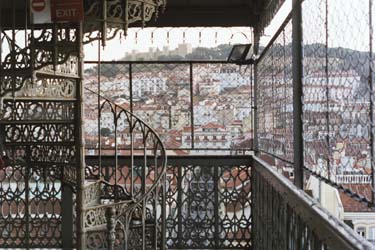 (Click any image to see it full size.)
Portugal, Christmas 2002. We rented a Smart at the airport in Lisbon, and drove. All over the country, ending back in Lisbon for the last three days. Great, great trip.
Portugal was chosen by Monty Python for the shooting of The Holy Grail for one simple reason - castles. There is a castle on almost every hilltop, it seems. Some towns still have their walled cities operational. Everywhere you go - walls. Along roads, properties, whole towns. And while some date back to the Roman era, most of the castles date from the 18th century. In other words, at a time when the rest of Europe had passed the Renaissance period and was heavily into Baroque, Portugal was busy protecting itself from itself. That's the first impression.
The second impression was grafitti. Lots of flat vertical surfaces, untainted for three hundred years, now sport endless miles of indecipherable gibberish, and English swear words (very fashionable). Same for the Metro, store security doors - you name it. Mostly one color - black, not at all artistic, and frankly, a shame.
The third impression was mold. This is a damp country. It only takes an hour and a half to drive from the Atlantic Ocean to the Spanish border, and so it is damp. And when it is cold, you really can feel and smell it.
It being the end of December, we headed south, where the temperatures get up to the mid sixties (17C). Not beach weather, but perfect for touring. We didn't have reservations, which you can get away with off season. As we drove through tiny, narrow streets and walked into cramped little restaurants, we wondered at how anyone could actually enjoy this at peak season. We always got the best room at the inn (In Faro, we were one of only two rooms occupied in the Hotel Alnacir, so they put us alone on the top floor with a large terrace: 50 euros), the best table at the cafe, and traffic was not a big concern until we hit Cascais, Lisbon's seaside resort. On the other hand, a lot of restaurants and hotels were simply closed - some for the holiday, some for the season.
We also thanked various deities that we rented the coolest small car on the road, the Smart. This is a remarkable little vehicle. It is so short you can park it facing the curb in a standard parking space. The turning circle is so tiny you almost never have to back up. It is much taller than the average car, so the cabin is extremely roomy, with more headroom than I've ever seen in any car of any size, since the Checker. Really comfortable. Really fun to drive. But almost no storage space. Our two carryons were all it could handle - which imposed a kind of discipline where shopping was concerned. The other neat thing was the transmission - six forward speeds in a semi-automatic. That is, there was no clutch, but you had to push the shift forward again and again to change gears. An LCD display flashed from the current gear to an up or down arrow when it was appropriate to shift - according to the tachometer. Very cool. Really well designed. And we were the hit of the road. We turned heads everywhere we went. This car, by the way, has removable body panels, so when you get tired of the color(s), you just bring it to the dealer, and in 15 minutes you drive out with what looks like a new car. After we figured out the secret process to actually start it up, we really loved everything about it.
| | | |
| --- | --- | --- |
| | | |
| First stop in Portugal | Waiting | Our first castle: Sesimbra |
The southern coast - the Algarve - is anchored by Lagos in the west, and Faro in the east, with several towns in between. We stopped to check out the views, the beaches, and the historical districts, but were not overwhelmed by differences from town to town. Faro had the nicest shopping area. Like all Portuguese towns, it seems, the old core has been converted to an open air mall - a web of six, eight, or ten streets totally dedicated to the shopping and dining experience. The streets are replaced with a pattern of black and white stones, (a tradition carried on in Brazil as well). Once you understand that, navigating a new town becomes easy. (The first town we stayed in we hadn't learned that lesson yet, and basically saw the whole town and drove every two meter (seven foot) wide street looking for a hotel that was on the mall -and which was closed.) The atmosphere in these towns was not the least frenetic, despite it being Christmas eve, and people got off all of half an hour early because of it. There were no post Christmas sales, except at a couple of major department stores in Lisbon, but you'd never know it from the lack of crowds. Despite being a totally Catholic country, there were almost no visible Christmas decorations anywhere. Understatement is a welcomed trait.
| | | |
| --- | --- | --- |
| | | |
| Castelo Sao Jorge | Beach formation, Albufeira | Roman Temple in Evora |
On Christmas Day, we took a side trip to Seville, Spain, just two hours away by car, but a world away in terms of class, architecture, and spirit. Seville has it all, from a classic historical core to the ultramodern Olympic site. Parking was all but impossible - even on Christmas Day. We stopped at an outdoor cafe for tapas, and drove back to Faro in time to discover the restaurant we wanted to eat at was closed. So it was back to the mall area, where we managed to get ripped off at a quiet little cafe just off the main drag.
| | | |
| --- | --- | --- |
| | | |
| Cathedral in Seville | Seville | Seville |
We travelled north through the interior, through about 150 km of hairpin turns up and down mountains, finally settling in Evora, a walled city. At the very top of the hill was a Roman temple from 100-300 AD, facing a church which features stacks of human bones, with an invitation to join them! The irony was this "Christian" horror charged three euros for the privilege of entry, and all the while Jingle Bells was blaring on the loudspeakers outside, echoing through the Roman temple. We heard White Christmas, Silver Bells, Holly Jolly Christmas, and many other old favorites (of someone) throughout the malls of Portugal. Apparently, only Americans from the 40s know the true sounds of Christmas.
Not to be missed in Portugal is Sintra, in the mountains to the west of Lisbon, just north of the seaside resort town of Cascais. Built into the hillsides, with two major palaces, it is beautiful just to look at. We had our best meal to date at a little hole in the corner, up the stairs (Caffe Villa) from the main square - where Mom and her daughter served us homemade soup and were delighted at our compliments. In trying to find a parking space, we managed to see almost every street and every highlight (it turned out later) that Sintra had to offer. Not for the last time, we parked in a half parking space in front of a fountain, something only a Smart could pull off.
| | | |
| --- | --- | --- |
| | | |
| Sintra Village | Pena Palace | Inside Sintra Palace |
Cascais is the posh resort town. We stayed at the Hotel Baia, right on the marina's beach, and we got the top floor, with terrace, where we ate and drank at our leisure. We spent a lot of time in bakeries and groceries, sampling the local wares without the restrictions and formalities of restaurants, which were mostly geared to tourists - British pubs, pizza joints, and the inevitable American fast food chains.
Lisbon - the capital - the largest city - wants to be a little Paris. It tries really hard. The architect of the five story elevator to get you from the lower town to the higher quarter, studied under Eiffel, and it shows. Lots of squares. Lots of monuments. Just not the feeling of accomplishment, history and excitement that is Paris. Funicular trains get people up the steep hills. They move slowly and steadily, and people simply step on and off at will. On Sundays interestingly, thousands of black men gather in the main square of Baixa to stand around and chat. They're from the former Portuguese colonies of Brazil and Angola. It reminded us of Hong Kong, where Sundays see thousands of Philippino maids and nannies sit at the base of office towers and chat all day. The museum highlight was clearly the Coach Museum, a collection of royal vehicles going back to the 1600s. You can see the sophistication and technology change, and as royalty got wealthier, the coaches got fussier. Really, really impressive.
| | | |
| --- | --- | --- |
| | | |
| Cascais Hotel View | Coach Museum | Coach Museum |
We stayed at the Marques de Pombal, at the top of the Avenida de Liberidade, the attempt to clone the Champs Elysee. We paid in advance, it being New Year's and all, and got a good deal at HotelsPortugal.com. It was particularly valuable because we paid in the US, and all the US credit cards now charge a two or three percent surchage for purchases outside the US. I found this out the hard way when I bought something on the internet - in Canada - and then reversed it. I got charged three percent on the purchase, and they deducted three percent on the credit. This meant I owed the credit card company six percent, even though I had bought nothing! So. We took dollars to Portugal, converted them to euros at a good rate, and paid cash everywhere.
Not to be missed is the Casa do Alentejo, a cultural centre that is pure 17th century. Totally anonymous from the outside, it blows you away inside. The restaurant upstairs was not only authentic but great. The line was several hours long, but when a table for six opened up, I volunteered us and the three women in front of us for it. It took them by surprise, but we made three new friends from Barcelona as a result. Another great evening out in Portugal. The restaurant hit of the trip though, was the little dump across from the railway station (Cafe Beira Gare), where you can see through the window that they keep saucepans going 18 hours a day, constantly refilling them with more meats and fish. Lots of locals, standing three deep to eat lunch or linger in the evening. We tried as much as we could in three visits. Everything was great. And cheap. Dinner for two usually came in under 20 euros.
| | | |
| --- | --- | --- |
| | | |
| Funicular w/grafitti | Casa do Alentejo | Fave |
The one thing for which the Portuguese cannot be forgiven is dessert and pastries. They seem to have no clue. What isn't tasteless is so sickeningly sweet your teeth sing. They have only the vaguest notion of chocolate, and have no idea what to do with it. A major disappointment as we ate our way through the regions and their otherwise interesting cuisines. Hardly a reason not to go. We had a totally engrossing time of it.
.
.
.
.