Iceland 2004
Iceland is not normally on many priority lists of countries to visit, but the national airline, Icelandair, came up with a brilliant strategy. It is really easy to fly nonstop from New York nonstop to western European capitals. So Icelandair, which can take you on those routes only if you stop in Iceland, turned that large disadvantage into a big advantage. By charging less, and allowing travellers to stay over in Iceland for up to a week before resuming thir trips, Icelandair has made an annoying stopover into a small adventure. Of which we partook.
Iceland is of course, a very large island in the north Atlantic, not part of the European Union and (almost uniquely) not even on the list of candidates, but very European nonetheless. Of the quarter of a million people who live there, a good 85% live in the capital, Reykjavik. The rest of the island is a lunar landscape of ground up rocks and moss, essentailly treeless, despite being south of the arctic circle. The island is thought to have been formed volcanically, possibly by a meteor hitting the Earth breaking the crust. The result is geothermal heat - plentiful and free, used for heating an electricity. They even use it to heat sections of road that become slippery when iced. This is fortunate, because Iceland merits its name. There are several major glaciers still covering portions of Iceland, and it is their recession that churns up the ground.
The country is not wall-to-wall blond descendants-of-Vikings. There are far more blonds in California than in Iceland. The people are delighted to see you, and everyone in any service capacity speaks decent to excellent English. But don't bother taking your American Express Card. We couldn't find a single place that took it.
We stayed the Hotel Frón, right on the main commercial street, Laugavegur, in the heart of town. Ultramodern, very comfortable, and a studio apartment you would consider buying if it were for sale. Complete with balcony, kitchenette, and bathroom I wish we had. From this great base, we walked everywhere. Reykjavik reminds you of large fishing town, like St. John's NFLD, where the buildings tend to be low, and the colors very bright. Exceptionally bright. A real treat of indiviuality and personality. The streets are narrow, and the sidewalks are barely above street level, but we were delighted not to see Starbucks, McDonalds's, Burger King or The Disney Store. (We did see a KFC, a Domino's, and a Subway. Oh well.) Unlike St. John's however, business is great. The waterfront is booming with construction, probably a dozen towers going up- apartments mostly, but also offices. They're beginning to block the view of the magnificent plateau opposite, but such is progress I suppose.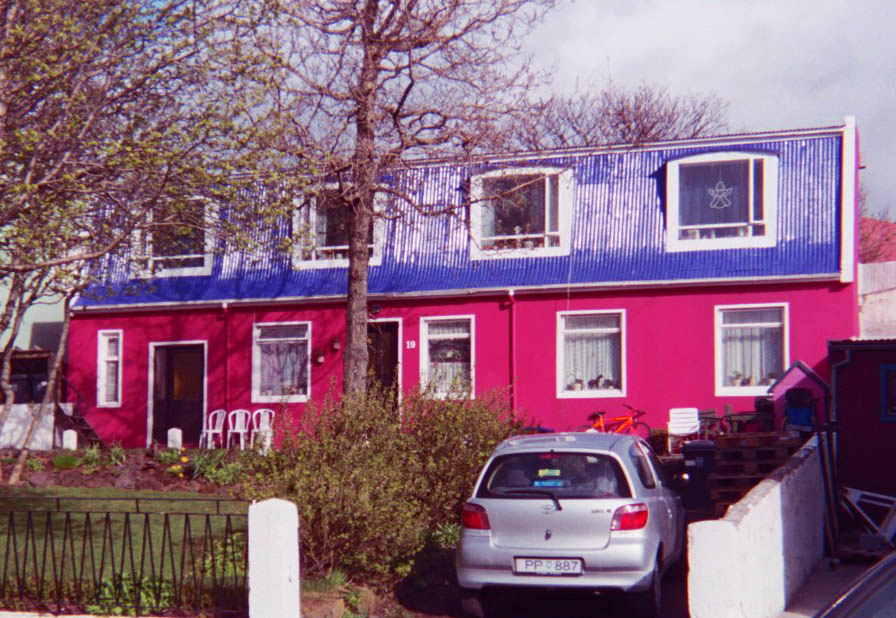 Rekjavik color scheme - including bright orange bicycle.

It's a cafe society. People hang out in cafes all day, all night. Smoky, noisy, often boisterous cafes and bars are extremely numerous. By contrast, there are only about nine liquor stores (state run) and a similar number of bakeries! But the first bakery we found made up for it. It was right on our street, and the quality of the pastries was second to none - and we had come directy from Paris. Bakari Sandholt has been family run since 1920. They tke huge pride in the artistic creations they sculpt and mold. The breads and pastries are right there at the entry. The cakes and chocolates are further back, where you can sit at cafe tables as long as you like, and watch the bakers in action on the other side of the glass. This is a Reykjavik institution, and it's one I wish every city had.
A word about the weather. Changeable. Snowing one minute, sunny the next And this is May! Huge constant winds sweeping in off the ocean from the north. Winds that prevent you moving forward. And temperatures that make you feel those winds in no uncertain terms. It is however, light. In May, the sun set at about 10PM and it stayed light almost to midnight. By the 21st of June, it will be light almost the entire day, with sunrise at 2:54 and sunset at 11:04, and no real darkness in between. On the other hand there's December. We don't want to think about the 21st of December.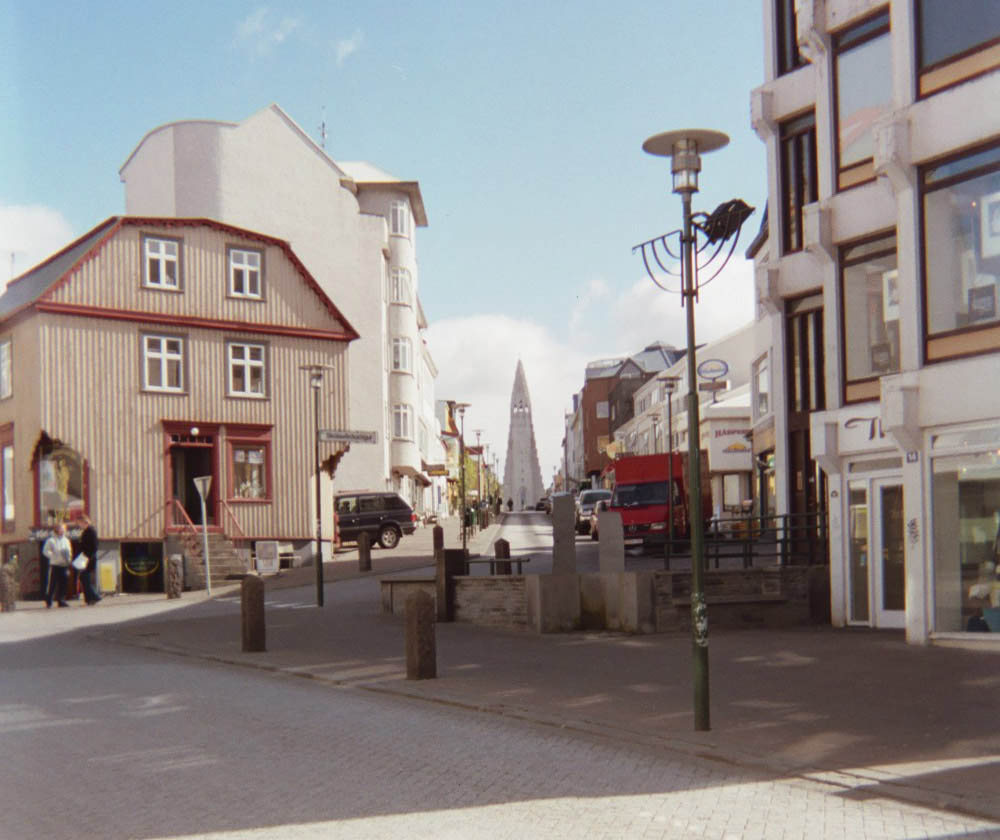 The strikingly Scandinavian/modern cathedral atop the hill overlooking the harbor.

Communications is a big concern when you're isolated, and Iceland prides itself on a world class system. Wireless broadband is available in more and more cafes and hotels. The phone book is a hardcover book with glossy pages. An important publication. There are two of them; one for Reykjavik, and one for everywhere else, divided into geographic sections. Icelanders are not big on last names. You have your first name, and you are someone's son if you are a male, and someone's daughter (dottir) if you are female. The result is a phonebook sorted by first name, like some internet startup. This is great and friendly, and neat to see, but you really have to know the other party to find the phone number. For example, there are five pages of Einars - Einar Gustafson, Einar Peturson... and they all live in Reykjavik. And they all have the same area code and (pretty much) the same phone exchange, so there are no clues there. And if the family phone is not in Einar's name, you really have to know a lot more before you can find the number.
One of the very nice things about not being in the vortex of European or even western politics is the lack of concern for security. You can walk into any building. Police are not often seen. Truck drivers leave the doors of their vehicles open when they make deliveries. It's just more relaxed. Despite the lack of police vigilence, drivers in Reykjavik (at least in the old town) move at 10 mph, voluntarily, something an American could simply not envision.
We didn't get to see everything. Not by a long shot. We didn't go to the famous Blue Lagoon, for example, because it was just too far away for us on this short trip. On the other hand we also didn't go to the Iceland Phallus Museum, with (undoubtedly) the world's largest collection of non-human phalluses. Some other time, perhaps.
We were totally charmed by Reykjavik, it's cheerful, helpful citizens, its intimate, small town feeling, and its openness. Everyone seems genuinely proud of the country, and pleased to show it off, without a lot of flags, monuments and statuary. It's been there 1000 years. May it enjoy thousands more.